herbal
hand & body wash
in returnable bottles
• Zero waste
• Natural ingredients
• We refill, you reuse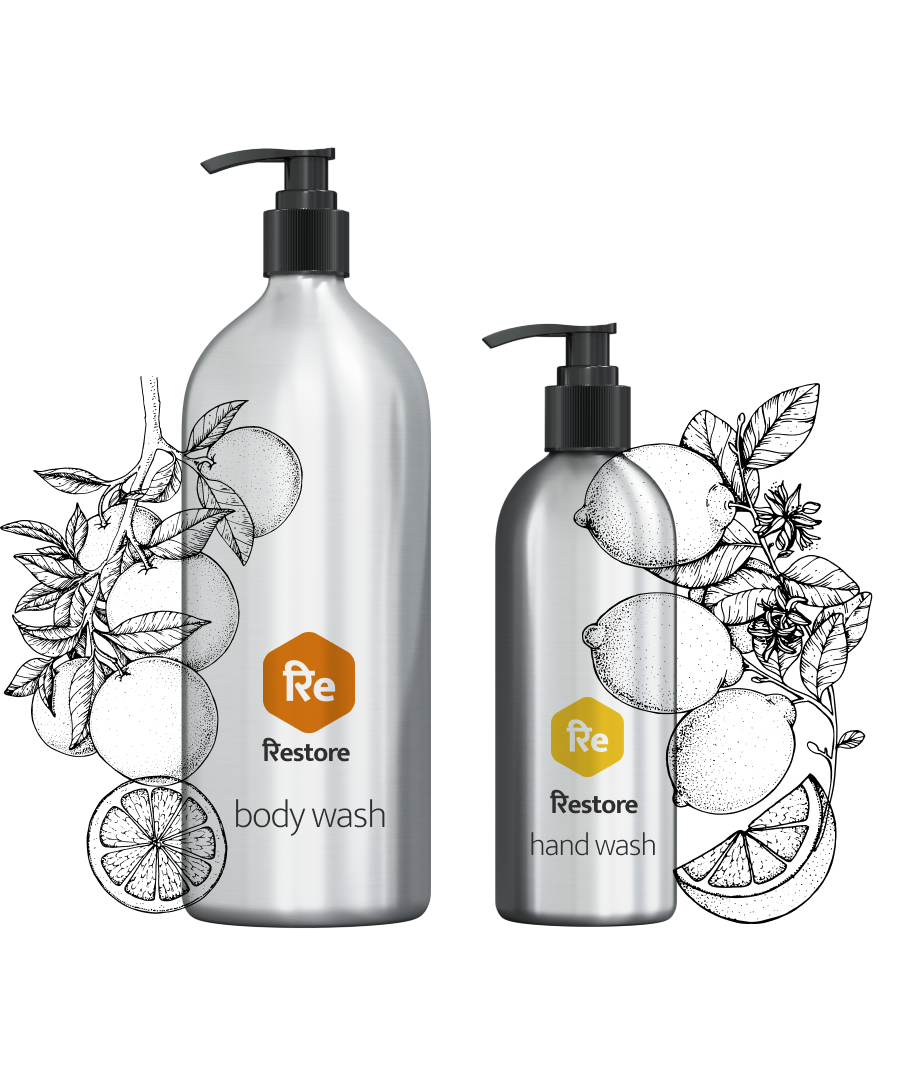 How it Works your products in a durable aluminium bottle. on WhatsApp when your bottle is empty. your empty bottles in exchange for full ones at your doorstep. Being zero waste is super easy.

Products

Sustainable,
Inside & Out Aarti Wig
CEO,
Yunus Social Business India
"I've wanted to find a solution to this problem for so long. I am so happy that Restore is on the mission to Restore the planet. Request Quote from Aarti" Aakash Ranison
Climate Change Activist
fdgdgfdh
"Request Quote from Aakash" Joanna Huang
Social Impact and Sustainability,
Estee Lauder
"Ad illum putant quo, porro ridens pro ex. Officiis insolens gubergren eam at, mei ut nobis verear quaestio. Sea accusam scaevola an. Ne delicata facilisis nec." Alka Talwar
Chief Sustainability Officer,
Tata Chemicals
"Request Quote from Alka, Request Quote from Alka, Request Quote from Alka, Request Quote from Alka, Request Quote from Alka, Request Quote from Alka, Request Quote"
Hand made in small batches to avoid adding any toxic chemicals with long complicated names.

Blogs

Bio Plastics - Are they the silver bullet to our plastic problem?
Biodegradable vs Recyclable vs Compostable - What's the difference?
Garbage Burning in Goa

News you can रिeuse

India generates 25,940 tonnes of plastic waste daily.
Every single bottle makes a difference.

store.
use
plenish
lax
fill
imagine
wind
start
Don't take just our word for it
Great product. Great concept
We got the product within a day of ordering. Overall a very slick purchase experience. The handwash itself uses high quality ingredients and comes in nice packaging: bottles that you can keep anywhere around the house. Moreover, it feels nice to be a part of a movement to end unnecessary plastic use. Will definitely go for a refill.
Love it!
Hand washing has become a ritual in 2020. So glad to discover this gem. Not only does it leave my hands clean and soft, it helps me get rid of huge the plastic refill bags and all the chemical based products I used before. Love the packaging and thrilled to have discovered a local brand that's actually here to make a difference by refilling and getting us to reuse!
P.S - It successfully manages to remove the smell of spices and certain not so nice veggies post cooking, with just one pump!
Terrific product
Amazing product. The fragrance is so relaxing and calming - makes for a great shower! The best and most imp part is - it feels light on the skin and you know its not full of chemicals like other products around. Given I have fairly dry skin i was a little apprehensive about trying a new product but this worked perfectly well and did not leave my skin dry post a shower.
Value for Money & Small Step in the Right Direction
Saving the planet and your money, one shower at a time!
Here's a few reasons why I recommend the body wash!
Easy: it's a super Easy way to do our bit for our planet. (Think about the plastic you generated with every soap and body wash you've bought in your lifetime)
Suitable for Sensitive Skin: my husband has dry and sensitive skin this worked really well for him!
Lather: the body wash generates a rich lather with just one pump.
Scent: it's got the freshness of oranges without that synthetic sweet hint.
Value for Money: a bottle of that size, with that quality of ingredients would usually cost a lot maybe around INR 1200/- this literally at half the price! And it can be refilled without that car trip to the store!
Brilliant in Every Way
As I have gotten older and hopefully wiser , I've tried to find brands with a conscience that don't feel like a compromise. I was a big lover of the body shop and stores of that kind. But when I tried the ReStore hand wash , I discovered a brand that offers me the same great fragrance and feel with the triple bonus of being kind to the environment and supporting a home grown business . I've used the hand wash for a week now , and it's left my hands instantly feeling clean regardless of what I've touched and has a great post wash aroma as well ! I highly recommend this hand wash and am so excited to have discovered this brand with its heart in the right place and it's eye on the bigger picture !
Very fresh fragrance and lathers perfectly
Fragrance is great and really different